Serviced Apartments: Capturing the New Demand
By ITB Community and Hoshang Garivala, Director of Operations – India at Oakwood
---
As the travel industry worldwide is recovering from the COVID-19 crisis, we will need to apply a new perspective on customer engagement, product development and the whole spectrum of travel. ITB Community had a catch up with Hoshang Garivala, Director of Operations – India at Oakwood, to hear his thoughts and insights on what has changed in the hotel business landscape, how serviced apartments are playing an important role in shaping guests' demands, and how industry players in South Asia and beyond can ultimately work together to bring travel back.
1. As India and the other South Asian regions are opening for travel, what are some positive changes you have seen in the hotel industry?
The hospitality industry as we know, has evolved rapidly in the past two years and will continue to do so in the years ahead. As India and the other South Asian regions open for travel, we have definitely seen a positive uptrend, especially with the easing of COVID restrictions.
Companies are increasingly opening up their offices and business travel is gradually resuming. With this, corporate organisations are constantly looking to provide their employees with secure, trusted and comfortable accommodation in light of today's pandemic situation, which in turn drives demand into the serviced apartments space. On the other hand, we have also witnessed a growth in consumer confidence, where an increasing number of travellers are travelling both for leisure or even remote work for a change in environment.
Today's discerning travellers have distinct preferences for their stay experiences. Be it for short stays or long-term accommodation, their search criteria has expanded beyond what a traditional hotel provides. Guests are looking for a holistic travel experience and we see serviced apartments growing as a mainstream alternative to hotel accommodations. This is also evident in the fact that more and more companies are now expanding their extended stay portfolios.
There is no time like now to be creative. International travel restrictions have forced us to be innovative in generating incremental revenue streams through service innovations and adapting our operating standards to new expectations.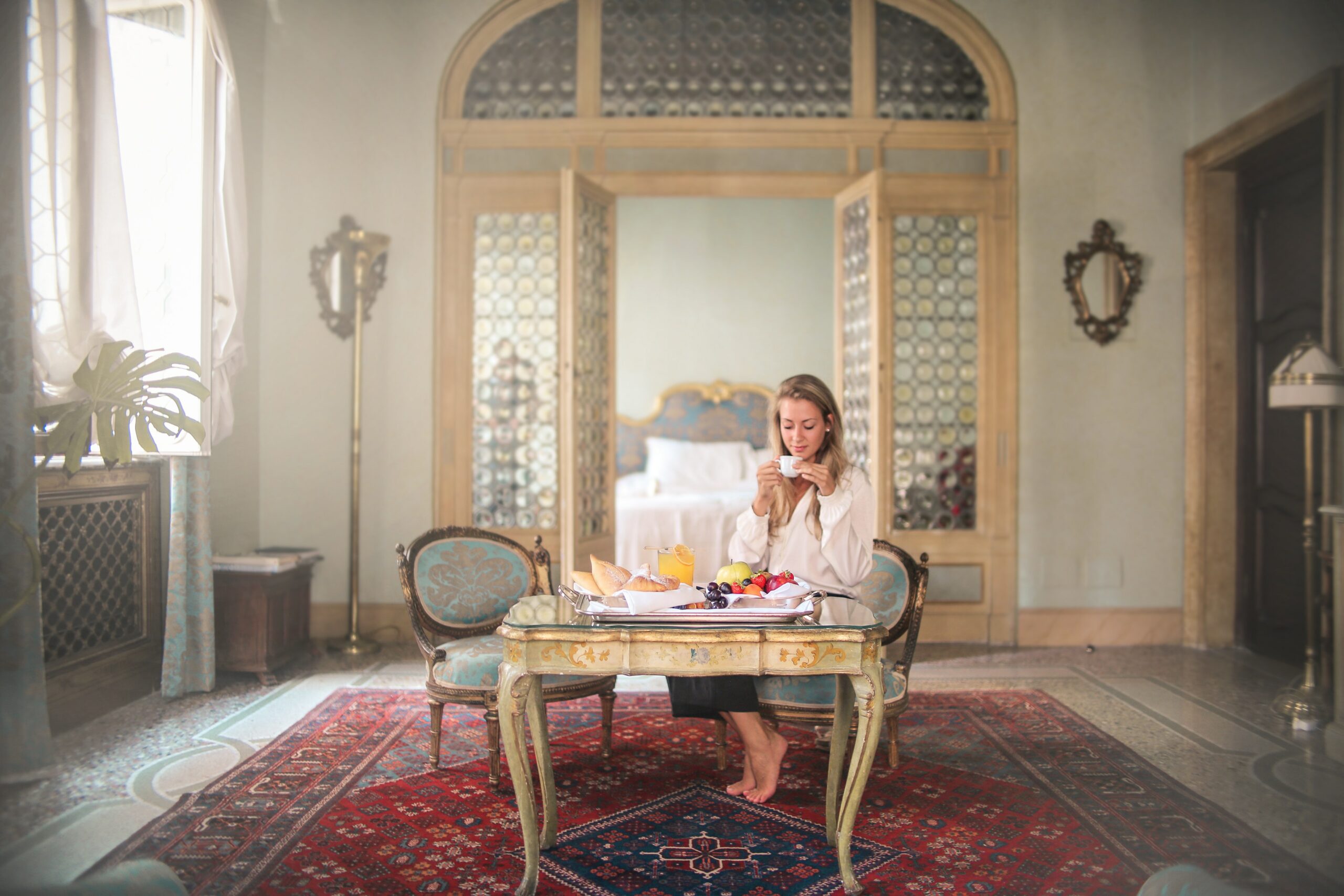 Innovation
Continuous innovation is the foundation for success and we have seen the industry progress creatively in so many ways, to cater to guest needs.
A good example is the premium room rate tagged to the exclusive access to a luxury hotel's executive club lounge. In order for a guest to enjoy exclusive privileges like complimentary refreshments, breakfast and evening cocktails, they have to make their way to the lounge at designated hours. One of the recent notable innovations is mobile bar service, which allows guests to enjoy the exclusive club lounge experience in the privacy of their apartments, where cocktails are prepared at their doorstep and served up alongside a pairing of canapés. Guests should be empowered to choose where and how they wish to enjoy their cocktail benefits. Not the other way around.
Smart Technology
Another unavoidable trend is Smart Technology. All of us are conscious that technology is constantly evolving and becoming an integral part of our lives. In tandem with the global movement to embrace smart home technology, a lot of hospitality brands have pivoted towards offering smart guest services as a natural extension of this trend.
Digital Transformation
Digital transformation of corporate culture was already in progress before the pandemic hit us two years ago. With more Millennials joining the workforce and increased reliance on smart technology, traditional office environment and regimented working spaces are no longer relevant for digital nomads. This adoption of new technology, automation and robotics has resulted in changes for guests and the hospitality workforce.
It is a reality now that remote working arrangement is here to stay, albeit in a more flexible manner. In the post-pandemic era, remote work and virtual events will continue to be an integral part of corporate life.
The hospitality industry is at the cusp of change now and we are fortunate to be seizing the opportunity to reimagine stay experiences for the future.
2. What are some of the guests' demands that have shifted during the whole of last year since the pandemic?
The travel decisions of guests are now prioritised differently. Personal health and safety top the list of criteria, together with flexibility of travel plans and peace of mind. And there has most certainly been paradigm shifts across the industry to cater to these needs.
From the onset of the pandemic in June 2020, this reality became the guiding principle for reimagining new stay experiences when international borders reopen. Hygiene and sanitation programmes were made even more robust and pronounced, so that guests can find safety and comfort in their personal sanctuary complemented by world-class hospitality services.
Medical experts agreed that the safest accommodations are the ones with the fewest touch points. Consequently, private residences are safer than hotels. In a serviced apartment, guests can maintain the safety protocols they have implemented at home which include:
Preparing meals within their apartment, reducing the need for dining out or ordering take-out.
Laundry of personal clothing and linen to reduce external exposure.
Cleaning and disinfecting of their apartment unit as often as they wish for additional peace of mind.
The heightened sensitivity to hygiene and sanitation protocol is now even more so a basic requirement for all hospitality brands.
3. Are serviced apartments slowly replacing hotels and other accommodations. In this case, do think this change is permanent?
While serviced apartments used to be an alternative option of accommodation, we have seen this sector switch to becoming a preferred form of accommodation in recent years.
After living with the pandemic for almost two years, the demand for serviced apartments has increased greatly, especially as travellers take extended trips and balance business and leisure pursuits now that remote working has become the norm.
The rising popularity of serviced apartments speaks to the importance that travellers place on maintaining their personal lifestyle and comforts of home instead of a typical hotel guestroom. This is the core competency of our sector, which is to provide a diverse collection of residential options to cater to the needs of both corporate and leisure travellers at different stages of their life cycles.
Positive Investor Sentiments
With the ability to achieve a well-balanced mix of long and short stays, owners and developers have come to appreciate the serviced apartments' business model and recognise its ability to limit volatility in occupancy across the typical cycles of peaks and troughs in a hospitality asset.
This is particularly evident in the current COVID-19 pandemic, where we have seen the unprecedented closure of thousands of hotels around the world. In contrast across the extended stay sector, majority of properties have not only remained operational, but have also seen a further growth in positive investment sentiments.
Consumer Confidence
Despite sustained travel restrictions, more so in Asia Pacific than the US or Europe, we have witnessed the healthy demand for serviced apartments developing as a preferred form of accommodation over traditional hotels. In recent years, travellers have recognised the flexibility of serviced apartments in meeting their individual lifestyle preferences without compromising on hospitality excellence. Unlike traditional hotels, serviced apartments are designed for residential lifestyle providing the luxury of bigger living spaces, well-appointed kitchens and amenities, as well as comfortable and generous workspaces that are hardly seen in typical hotels.
In the new era of travel, the safest accommodations are the ones with the fewest touch points—and serviced apartments provide exactly what is required in a personal, self-contained sanctuary.
4. Do you think workcations and bleisure still plays a huge major role in capturing guests' demands when it comes to choosing which kind of accommodations? In the long run, are serviced apartments catering more to the family rental or even to digital nomads?
Absolutely! It is a reality now that remote working arrangement is here to stay, albeit in a more flexible manner. In the post-pandemic era, remote work and virtual events will continue to be an integral part of corporate life. With 'bleisure' and the trend of remote work here to stay, the offerings of serviced apartments play right into the requirements of a work environment with the comfort and ease of home.
Unlike traditional hotels, serviced apartments are designed for residential lifestyle and provide the luxury of bigger living spaces alongside well-appointed kitchens and in-apartment amenities. This allows for self-sustained living where guests are able to find safety and comfort within a personal sanctuary.
The guest profiles for serviced apartments extend across multiple demographics, not just for families, but also for discerning digital nomads.
In India in particular, families and friends travel together in large groups and often select serviced apartments for stays as it gives them the chance to not only stay together in two- and three-bedroom apartments, but also make use of the kitchen facilities to prepare preferred meals. Communal spaces within these spacious apartments allow for greater engagement while in a safe, contained environment.
5. What are some leadership lessons you have learnt thorough the past year?
Personally, one of the most important learnings I have gained through the past year is the importance of making quick, yet discerning decisions, as even the smallest delay could result in large impact on the business in these especially dynamic conditions.
Flexibility in our ways of working and the constant self-reminder to always view situations from a big picture remain key aspects that will help us better manoeuvre and navigate this journey.
Last but not least, our people are our most important assets, so it is essential for us to ensure they have the support they need from leaders, and fostered camaraderie to deliver as a team.
---
If you have written insightful articles, produced standout podcasts or filmed high quality content on travel ready to be shared, we could help your work achieve far-reaching impact in the global B2B travel community. Simply submit your content using the form here and we'll get in touch!